While our Beer Bogan's musings are not always entirely appropriate, we hope you are enjoying the blog and BB's unique approach to our amber offerings.  So, this week we sought our Beer Bogan's take on a seasonal IPA collaboration between Black Hops Brewery and New Zealand brewery Chur. 
And for all those asking who the Beer Bogan is, our Beer Bogan may not always be one person or of one gender …….  The mystery continues!  
Adam and Perrie 
___________ 
The Beer Bogan Blog  
(Your beer expert with "the fresh fruity palate and an elegant floral nose") 
This week Perrie and Adam kindly invited me to taste one of their new seasonal tap beers as it first came on.  I dressed up for the occasion – a tie, my least stained t-shirt, my only unripped jeans, and shoes!!  A picture of sartorial elegance.  I also ensured my palate was in top order and forewent my normal morning breakfast beers.  The sacrifices I make to bring the Cardigan Bar regulars my (semi) professional opinions on the Bar's brews….  
So welcome to my take on – 
'Black Hops' Hop Swap Hazy IPA – ABV 7%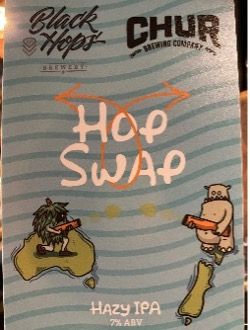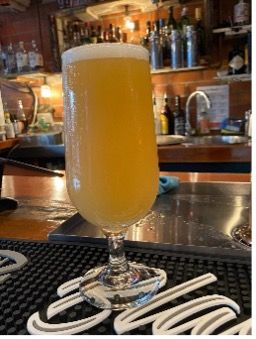 I was initially disappointed at my reception at the Cardigan Bar after I had gone to the trouble of dressing up for the beer tasting, as neither Adam nor Perrie were there so I had to buy the first taste of the Hop Swap Hazy IPA myself!  Adam has since made it up to me, once I explained that I had to have a few more samples to finish my review… 
The Hop Swap Hazy IPA is an interesting collaboration between Queensland's own Black Hops Brewery and NZ's Chur Brewing Company (Auckland) using two new hops varieties, Australian Eclipse and NZ107 hops.  Combined in a Hazy IPA (originally a variety from the USA), the combination showcased the best of the hop varieties.  The Cardigan Bar is one of a smallish number of outlets in Brisbane to get a keg of this limited release beer, although you may be able to get some cans of it at larger liquor outlets. 
The Hop Swap is a beautiful honey-coloured unfiltered beer, with citrus forward on the nose and first sip. The breweries own take on the Hop Swap both note 'an intense tropical fruit' aroma but I didn't really get any of that. The alcohol content is also quite apparent, with the hop-driven taste of a traditional IPA, with one fellow punter saying to me that drinking more than two or three was probably "a good way to get f…ed up for the afternoon".  I concur!  It also has a lovely drying and slightly bitter finish which is just up my alley!  Worth a special visit to the Cardigan Bar just to sample before it runs out and, as with most Black Hops brews, it didn't disappoint. 
The Verdict: 
The 'Black Hops' Hop Swap Hazy IPA is a great example of what a hazy IPA can be.  With its citrusy aroma and its traditional IPA hop driven bitterness, this is a Sunday afternoon session beer for the seasoned craft beer drinker (although one who should catch a cab home afterwards!).  A great collaboration between the two breweries, let's hope there are many more. As my friend texted me the morning after "Jeez, I thought I went back in time to those big nights in 1986 northern England.". 
Enjoy!! 
Rating: 
A solid 4 out of 5 ducks  

Yours in the swill, 
The Beer Bogan